TBA:19
2019


Page Layout, Communication, Advertising / Marketing, Information Design
Portland Institute for Contemporary Art Annual Time-Based Art Festival gathers artists and audiences from around the world for ten days of contemporary performance. Designing the festival's annual catalog involved implenting ideas and practices to maintain a modern visual appearance while being able to be readily absorbed / understood by a large variety of individuals. Additionally working on other pieces including program, flyers, signage, postcards; and marketing materials from online advertisements to bus tailends around the city.


Thesis
2017 – 2018


Page Layout, Research, Writing, Information Design
The Intersection Between Cowboys and Homosexuality is a look into the intersecting topics of cowboys and homosexuality. Researched, written, culminated and edited into a book for a thesis project by yours truly. I wanted to explore the idea of "homos on the range" through re-examining history of the early Western Civilization through a queer perspective. Along with observing how hypermasculinity is overtly present in gay icons and how hegemonic masculinity further perpetuates negative stereotypes that exist regarding gay men.


A Season in Hell Reissue
2018


Page Layout, Experimental Printing Techniques, Craft, Concept Design
This project stemmed from the idea of wanting to alter the viewer's perception and prior knowledge on what a book is. This required me to think about the opposition in bookmaking—thinking about the deconstruction of a book or rather components of a book that can exist outside of normal book conventions. I focused on a reprint of Arthur Rimbaud's A Season in Hell and how he had attempted to burn all his copies of the poem, not wanting anyone to read it. Printed on a set of transparency sheets and encased in a 5-sided acrylic bounding box—furthering the idea of not wanting to be easily read or consumed.


Documentation
2017


Book Design, Archives, Writing,
Information Design
Inside a Mind: David Cronenberg is a look into the life and career of homage director, David Cronenberg. Exploring different themes and patterns that exist throughout his filmography and providing an informative account of important milestones in his career. This book was made out of appreciation, with the idea to document his cinematography while simultaneously analyzing the movies for similarities amongst his other works.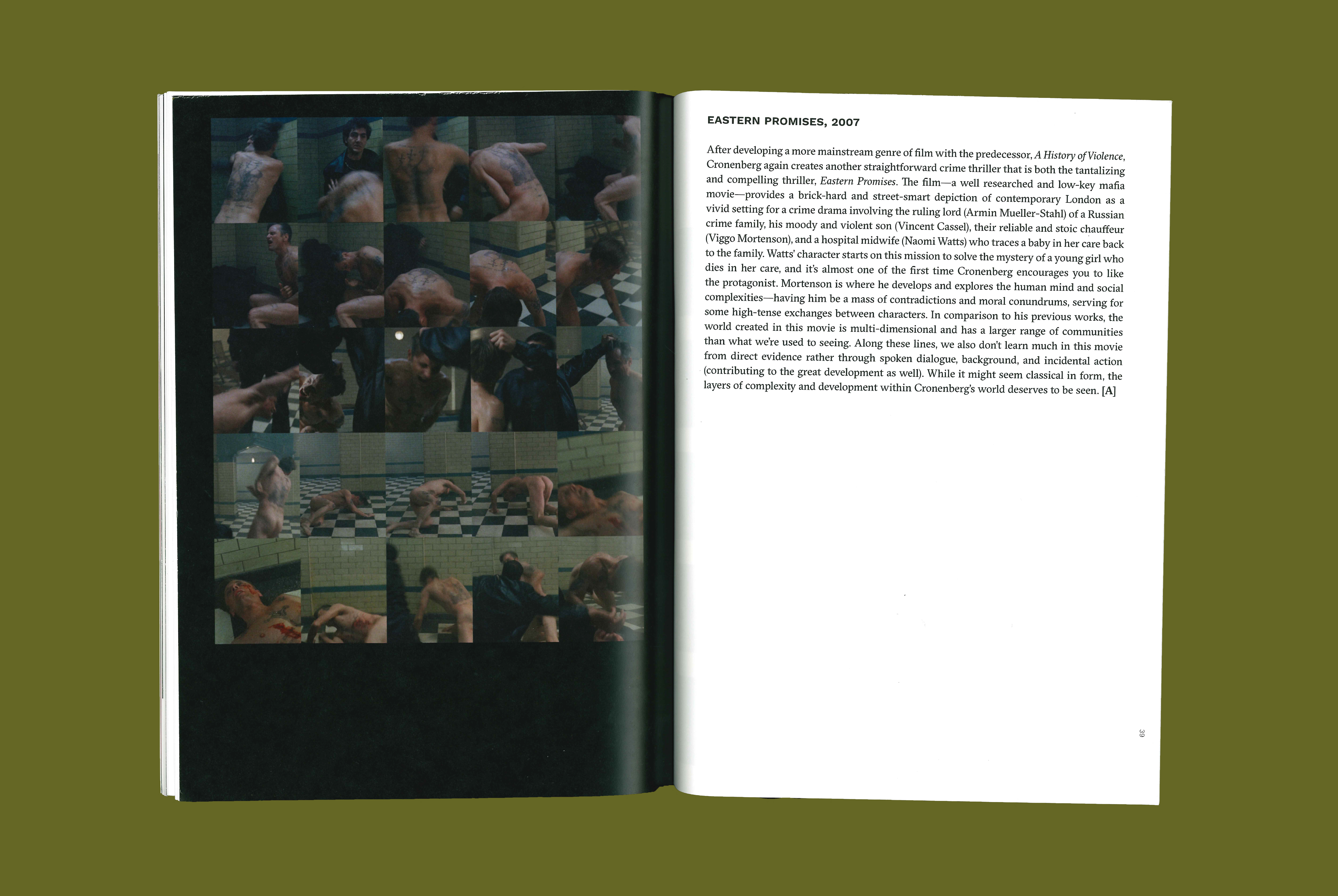 Portland Publication Fair
2017


Branding, Event Planning, Information Design, Communication Design

Portland Publication Fair is a hypothetical rebrand for the annual event celebrating all things print. Local publishers and artists can come sell their printed pieces at the market, while also getting the chance to watch live demonstrations of a variety of printing methods including risograph printing, screenprinting, letterpress, and much more.